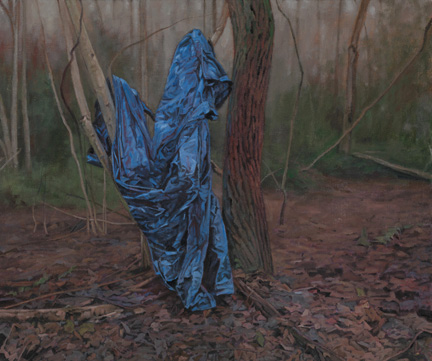 George Shaw, 'The Living and the Dead', 2015–16
© The Artist and Wilkinson Gallery, London
Managed to steal an hour out of the data mines on Friday to visit the art gallery for an exhibition of paintings by artist George Shaw.
There are a number of different elements to this exhibition: paintings and drawings by Shaw, a couple of paintings from the National Gallery's collection from which he took inspiration (see below), a collection of works from Southampton City Art Gallery's collection curated by Shaw, and a film about his ideas and processes.

Hendrick Van Balen the Elder, Pan pursuing Syrinx,
after 1615, oil on copper. National Gallery, London



The main exhibition was made up of a series of paintings of trees and woodland settings which he had made whilst on a two-year residency at the National Gallery. Inspired by works in the gallery's collection, Shaw created paintings that
'

offer a contemporary response to the mythological landscapes painted by masters such as Titian, Poussin and Constable.

Shaw is interested in how the stories in these paintings – often featuring violence, illicit sex and drunkenness – have parallels in the way that people might behave in the woods today, when they think they are unobserved. This is complemented by Shaw's interest in Christian imagery, especially how landscape artists of the past often alluded to the Crucifixion in their depiction of trees.'

Sebastiano Ricci, Bacchus and Ariadne, 1700-1710, oil on canvas
National Gallery, London
Interesting idea which enriched my experience of the paintings (links to Greek myth grabbed my attention immediately of course) and encouraged me to watch the 15 minute film (below) in which Shaw talks about his ideas and processes. Also, he visits a Humbrol enamel paint factory! Worth a watch.


Shaw also selected various works from Southampton City Art Gallery's collection displayed under he title 'A good day for looking out', a phrase used by his mother for bad weather days. I didn't find this group of paintings terribly interesting though I liked what Shaw said about it, particularly this:
'

Looking back at my selection I can see that it has an air of sadness about it. It is one of the few national characteristics I'm content to inherit so I make no apologies for the gentle beauty of the show. Perhaps it is evidence of Edward Thomas's 'melancholy wrought magic'. Or perhaps it just comes from the weather and not getting out much. In the end it is the transformative influence that painting has to take the mortal facts of the world and concoct a heady, strange and enduring potion.

'
The exhibition continues until 1 September 2018.